The play
From the team that brought you One Flew Over the Cuckoo's Nest, Steel Magnolias, and the Irish premiere of The Graduate, this classic Tennessee Williams play will transport you to the hot, steamy, raucous streets of 1950s New Orleans.
Curtain Call Productions Dungarvan presents Tennessee Williams' iconic play A Streetcar Named Desire.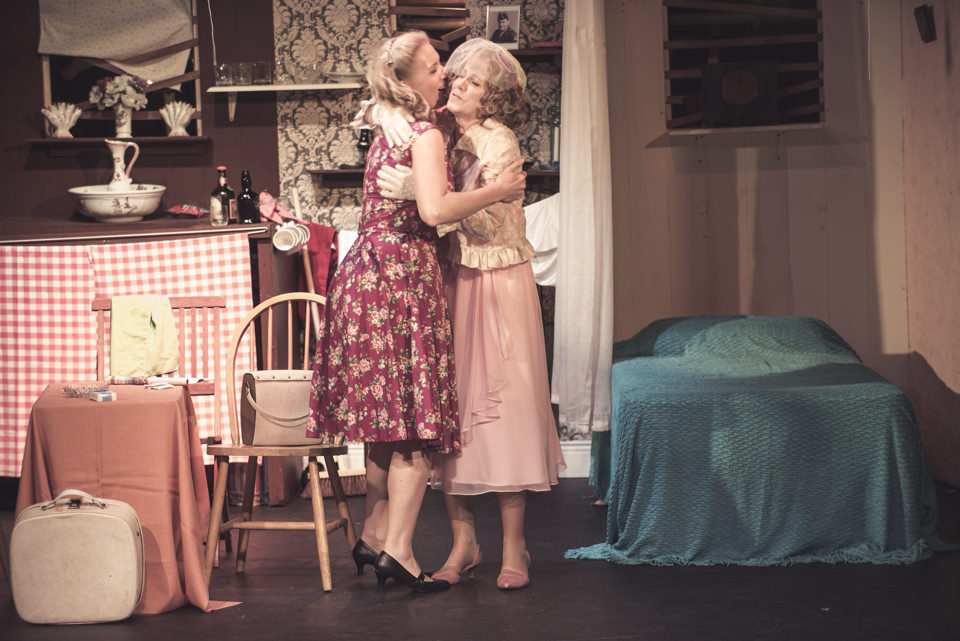 Probably one of his best-known and most successful plays, Streetcar tells the story of Blanche Dubois (Vanessa Leary-Hyde), born into a world of gentility, who now finds herself destitute in New Orleans, depending on the kindness of her sister, Stella (Emma Walsh), who is married to the (in Blanche's eyes) "brute" Stanley Kowalski (Killian Power).
Blanche's life has changed considerably since her upbringing in the family plantation, Belle Reve, and she struggles to come to terms with the limitations of her new status. Her struggle is not aided by the animosity of her brother-in-law, Stanley, who resents Blanche's intrusion into his life and her hoighty-toighty ways.
Blanche, worried about her advancing years and fading looks, sets her sights on Stanley's poker buddy, Mitch (Tom Rogers). Stella is torn between her sister and her husband as the truth comes out… and what happens thereafter has irreparable consequences.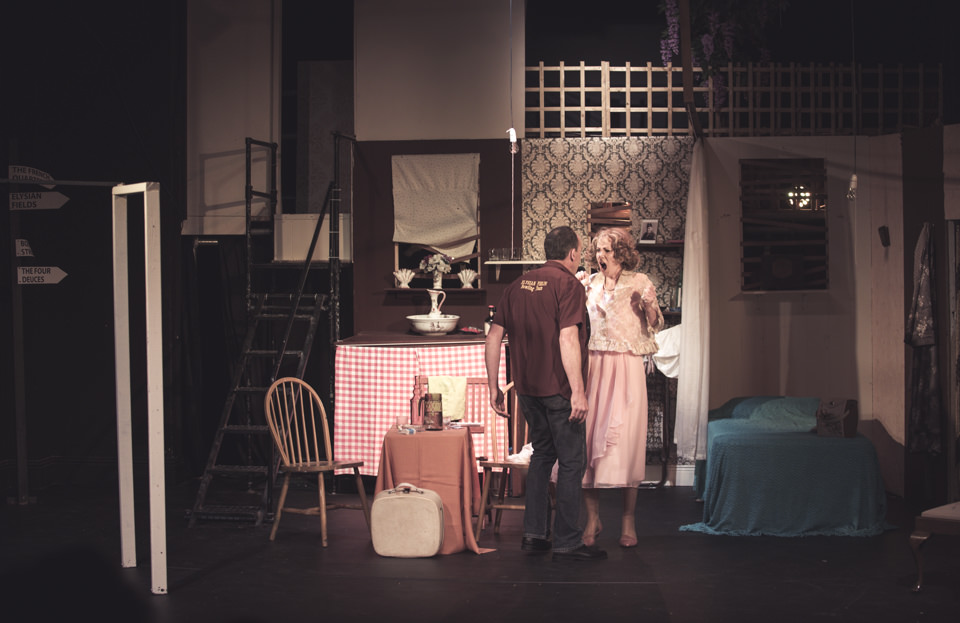 Curtain Call Productions Dungarvan (CCPD) is honoured to have the opportunity to stage this steamy classic for the theatre-goers of the area. Since being founded in 2014, CCPD has eschewed the conventional route, and has sought to bring our audiences a range of new, challenging theatrical experiences. Our production of The Graduate last year, a national premiere, was a prime example of this.
Streetcar, although different in tone and theme, promises to be no less challenging, and just as entertaining.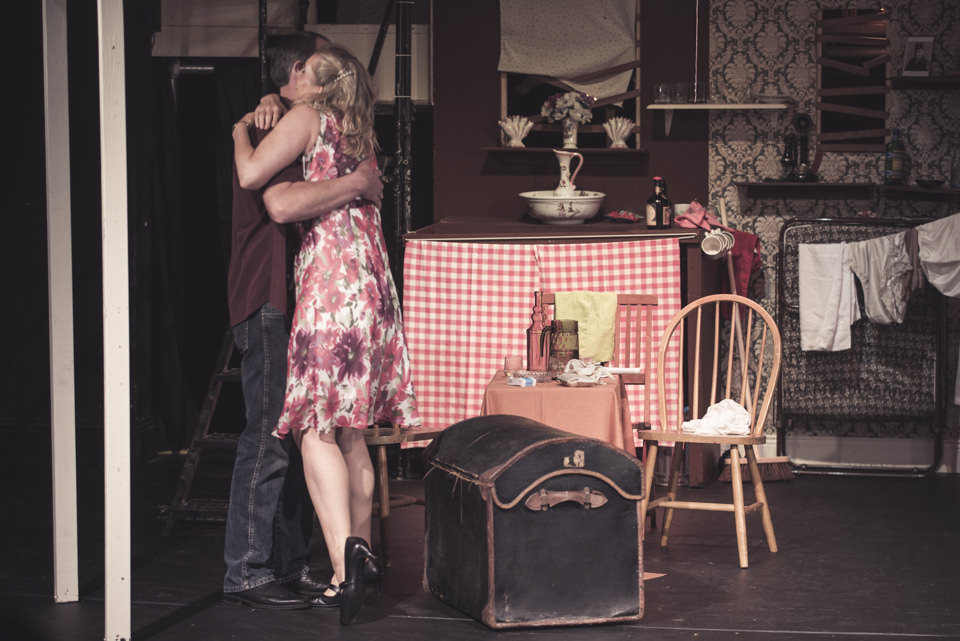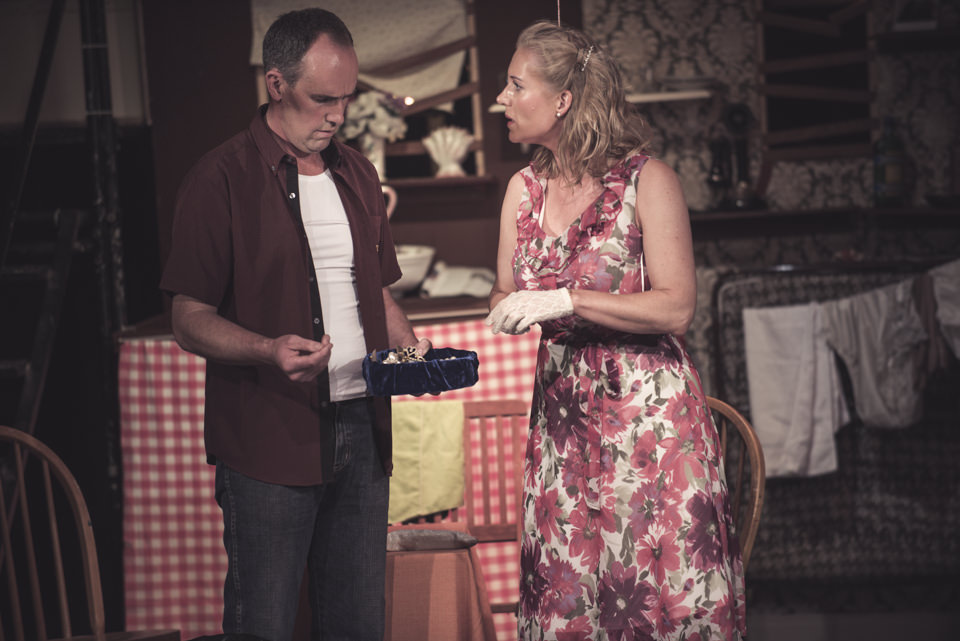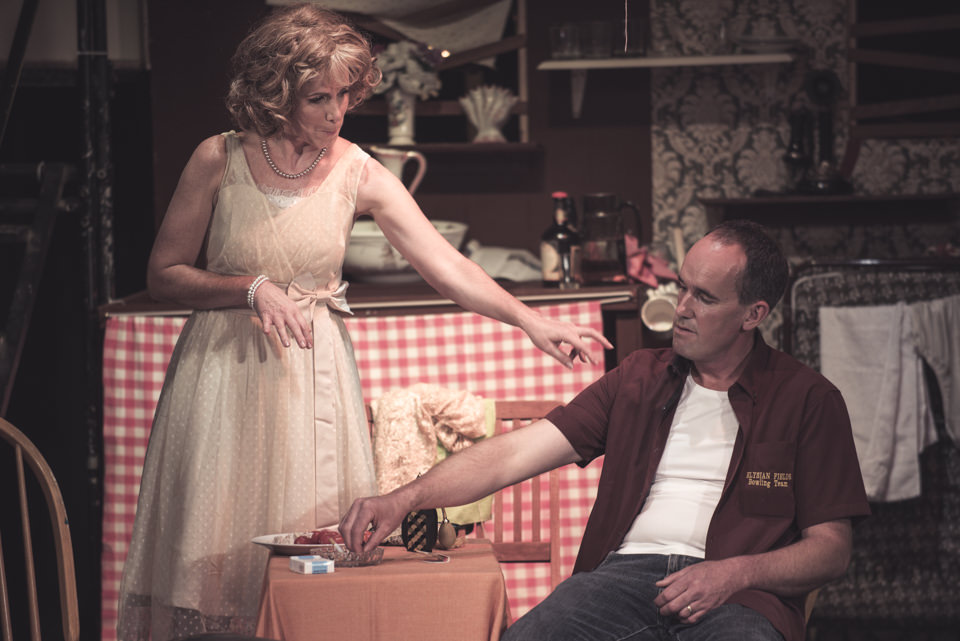 The Cast
---
Mary Kelly – Director
I was asked why I picked A Streetcar Named Desire to direct. Firstly, I love Tennessee Williams' style of writing – it's raw, controversial, and, for me, a page turner. Having seen Streetcar numerous times – both on screen and stage – I fell in love with it.
It's a subversive, steamy classic – to me, the story is electrifying. It's no wonder it has been said that this is the finest play of the 20th century. This controversial play was considered indecent, due to its bold, adult drama and sexual subject matter (insanity, rape, domestic violence, homosexuality, sexual obsession, and female promiscuity/ nymphomania). All of the subjects depicted in this play are as relevant now as they were back in 1947. For me, it fits right in to today's society.
When Streetcar became available to amateur dramatic clubs, I immediately wanted to direct it for Curtain Call Productions Dungarvan. I've been blessed with an amazing cast to work with, and I thank them sincerely for their hard work and commitment over the last number of months. I hope our audiences enjoy Streetcar as much as I have enjoyed directing it.
Blanche DuBois – Vanessa Leary-Hyde
Vanessa has appeared in numerous theatre productions over the years with Brideview Drama, Tallow and Dungarvan Dramatic Clubs, and in her own Empire Line Productions. This is Vanessa's second production with Curtain Call. In March 2015, Vanessa played the part of M'Lynn in Steel Magnolias.
"Blanche DuBois is perhaps the most iconic of all Tennessee Williams's characters. I could not but accept the challenge to play her. I would sum Blanche up as: more sinned against than sinning, her own worst enemy, and as someone whose dreams were never fulfilled and yet she never gives up on them. She yearns for a world of old southern gentility, of gentleman callers, servants and wealth – a world that has long since vanished for her. She does not have a cruel bone in her body, but she is a snob and not very practical or self-sufficient in any way. I look forward to bringing her story to Dungarvan audiences."
Stanley Kowalski – Killian Power
Killian has been performing in both drama and on the stand-up comedy circuit nearly all his adult life. This is his third production with Curtain Call. He played the suppressed Chief Bromden in One Flew Over the Cuckoo's Nest in October 2014, and the cuckolded Mr. Robinson in The Graduate in Spring 2016.
"Stanley Kowalski is a war veteran, who probably gives himself more credit than he deserves as he was only in the engineers. He is American-born, but of polish descent, and he hasn't shaken the Polack tag yet. Stanley is a man's man. He drinks, smokes, and loves gambling (but only when he wins) and women. He has very little respect for women, and believes that there is a time and place for them. Stanley has a very simple plan for his life that involves no real ambition. So, anyone who stands in the way or interferes with him has to be taken out of the picture."
Stella Kowalski – Emma Walsh
Emma has appeared in every Curtain Call production to date, playing nasty Nurse Ratchet in One Flew Over the Cuckoo's Nest, the feisty Clairee Belcher in Steel Magnolias, and the seductive Mrs. Robinson in The Graduate, for which Emma received numerous awards both locally and on the festival circuit. She has also performed in many Dungarvan Dramatic Club productions over the years.
"Stella's sister, Blanche, and her new husband, Stanley, are the two most important people in her life. She would do anything for both of them. The touching scenes with both are short-lived, however. Stella has had to adapt to a life without the luxuries she grew up surrounded by at the family plantation Belle Reve. But she is in love, and you know the compromises women are often willing to make for the man their heart desires. When Blanche comes to visit, Stella's relationship with Stanley becomes strained, and what transpires forces her to make some very uncomfortable choices. Does she make the right decision in the end?"
Harold "Mitch" Mitchell – Thomas Rogers
This year, Tom returned to the stage in the role of Mr. Bumble in Dungarvan Encore Stage Academy's production of "Oliver," and he recently joined his entire family in an adaptation of "Fiddler on the Roof" with Ignite Productions in the Theatre Royal. He has also performed with Waterford Dramatic Society and the Cathedral of the Holy Trinity Choir in Waterford. This is Tom's first production with Curtain Call, and we're delighted to have him on board.
"Mitch doesn't really fit in with the guys. He feels suppressed by their animalistic behaviour. His devotion to his sick mother is a perceived barrier to him living his own life and taking control of it. But is it, perhaps, a diversion from the reality that his life is, in the words of Blanche, "played out?" Mitch fears eternal loneliness as his mother nears death. Blanche steps into his life just at the right time. But with his apparent naivety and Blanche's secrets, nothing is ever going to be simple. Mitch is enjoyable to play as the character has given me the opportunity to delve into emotional encounters that would not be otherwise typical of my everyday life."
Steve Hubbel – James Fraher
A veritable veteran of the stage by now, James first tap-danced his way onto the boards in Dungarvan Lions Club's Jigs & Reels in 2015. Having been "spotted" by Fidelma Meaney, he has never looked back. This is James' second production with Curtain Call. He previously starred as the flirty porter in The Graduate in September/November 2015.
"Steve Hubble: Alcoholic, gambler, wife-beater, "comedian," fool of New Orleans. If he's not playing poker, bowling and drinking, he's entertaining those around him with questionable jokes only he finds funny. Playing this role, believe it or not, is very enjoyable and totally different to my previous stage roles. Even though Steve isn't really a nice guy, there is still something likeable about this character. And I'm really enjoying the love/hate relationship Steve has with his wife, Eunice, who gives as good as she gets…"
Eunice Hubbel – Fidelma Meaney
After short stints as Mrs. Braddock and a dive-bar stripper in The Graduate, Fidelma Meaney returns to the stage in her first official acting role for Curtain Call. Fidelma is of course most-frequently seen in the Director's chair, having directed two of our plays to date, One Flew Over the Cuckoo's Nest and the Irish premiere of The Graduate. Fidelma is also directing this year's Dungarvan Town Panto, "Little Red Riding Hood." Oh yes she is!
"Streetcar is a terrific play, beautifully written by Tennessee Williams. It has some very strong characters, with lots of twists and turns. Eunice is a great character to play. She's a woman stuck in an unhappy and turbulent marriage to Steve. Her attitude is put up and shut up, it's the choice she made and she's sticking with her lot. But she's no doormat – she definitely gives as good as she gets! I'm really enjoying playing her and playing opposite James Fraher, who plays my husband, Steve."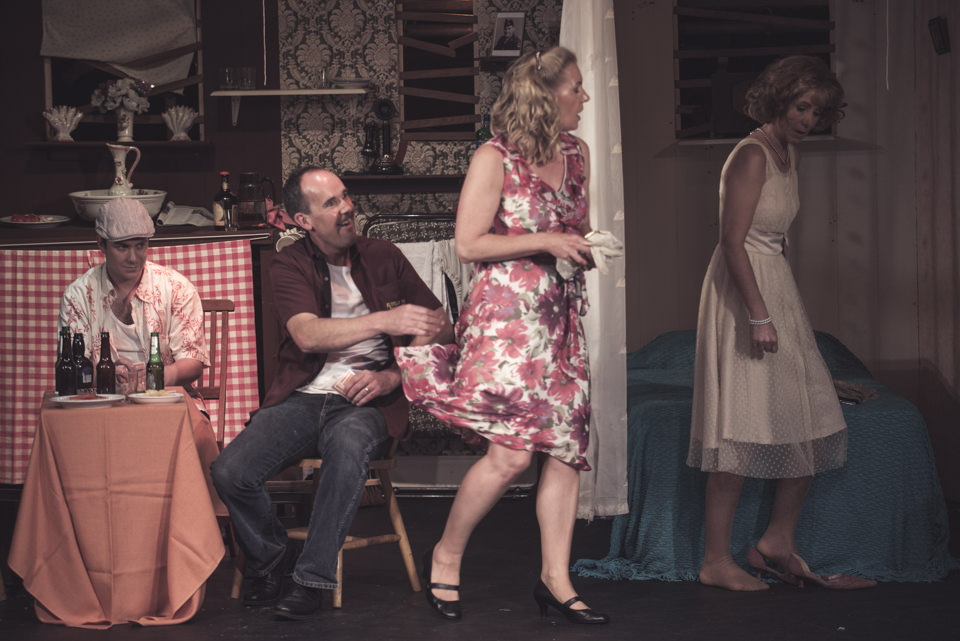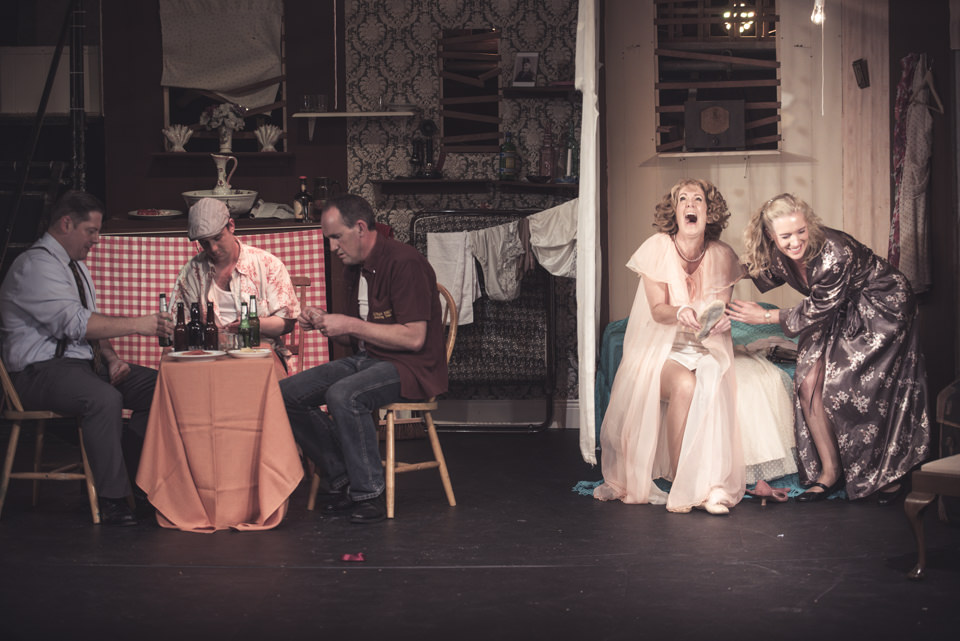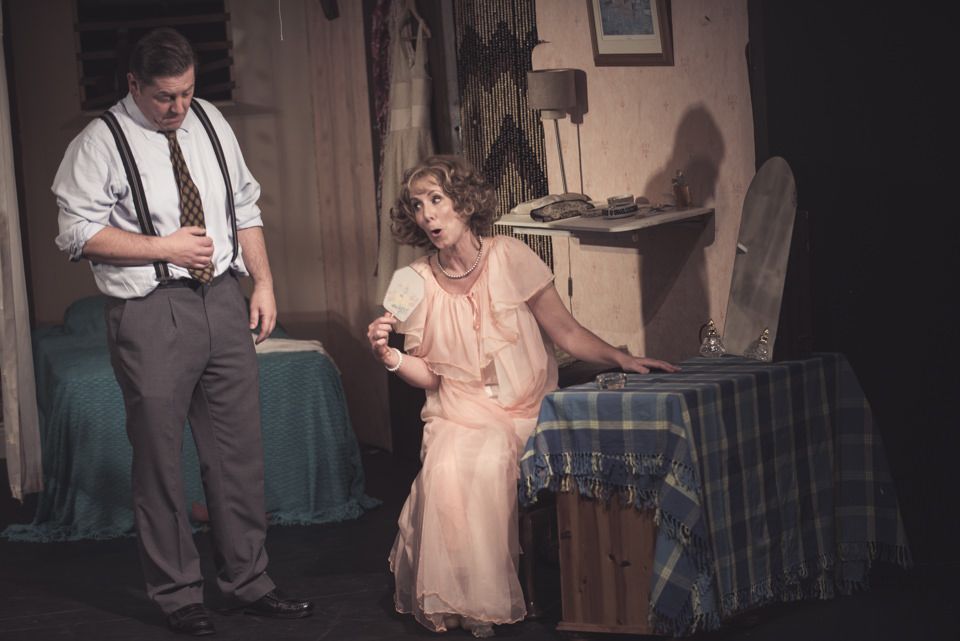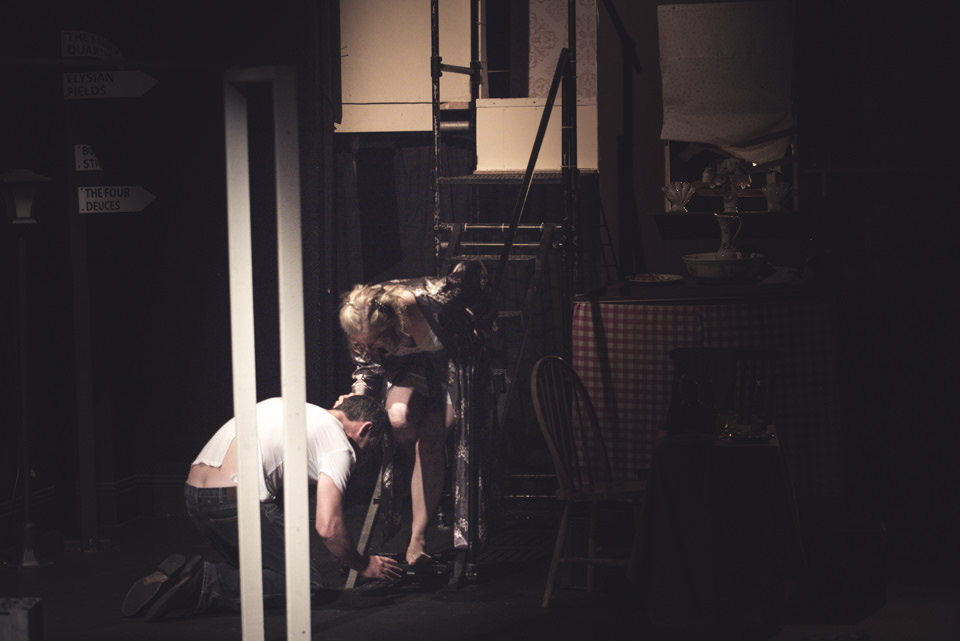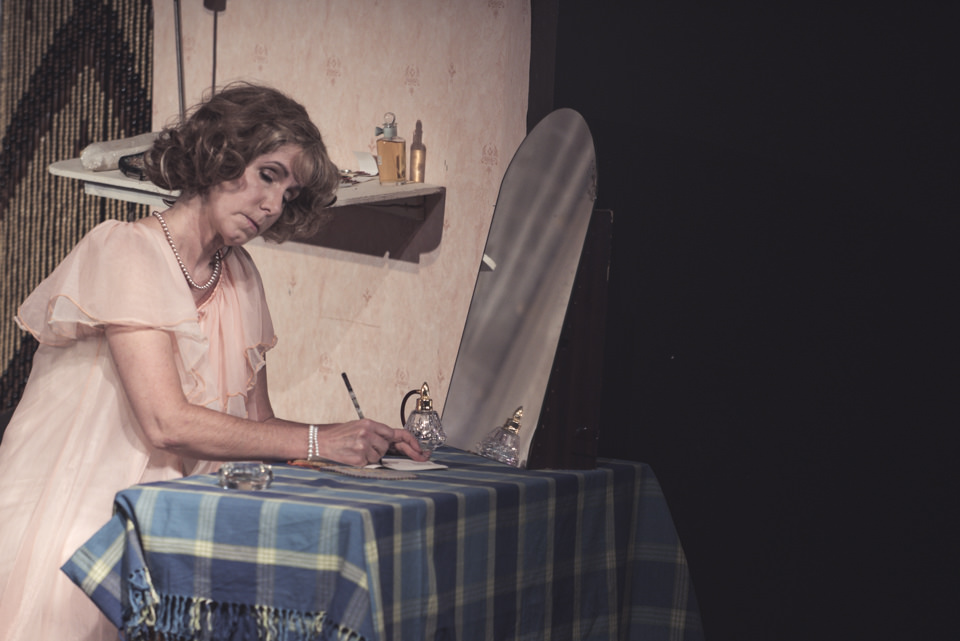 Photos by Pawel Lorenc, 'I do' photography
Summary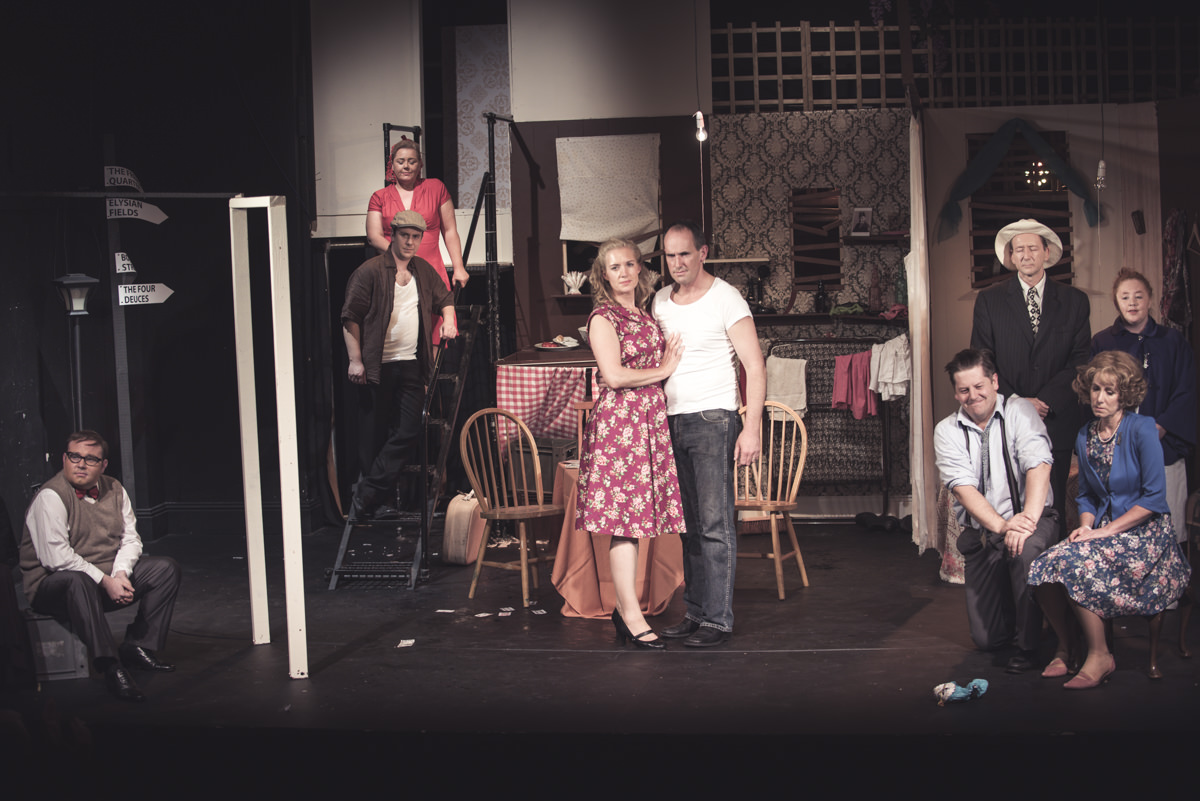 Article Name
A Streetcar Named Desire - Dungarvan Town Hall Theatre
Description
Streetcar tells the story of Blanche Dubois, born into a world of gentility, who now finds herself destitute in New Orleans, depending on the kindness of her sister, Stella, who is married to the (in Blanche's eyes) "brute" Stanley Kowalski.
Author